5 amazing spots to visit in Central America
Affordable, exotic and warm are perhaps the most important attributes about Central America. This region between Mexico and Colombia is formed by 7 countries, each one with its unique food, traditions and places to explore.
We'd like to kickstart your interest in visiting this amazing region by sharing 5 iconic places that will make you explore beyond. Paradises worth the visit, we're sure you'll find some great inspiration for your next trip.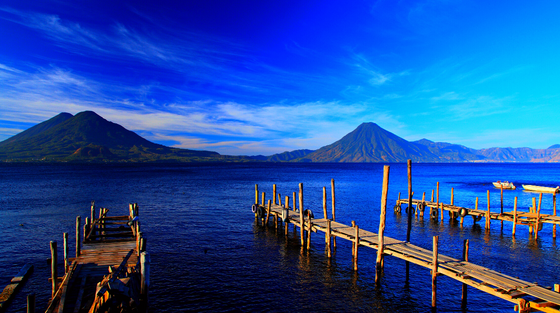 Lake Atitlan, Guatemala
For those traveling through Central America, Lake Atitlan is a great place to relax and recharge. The little towns around the lake are packed with international visitors and offer everything and anything one may need, including some of the best sunrises and sunsets in the world!
Although the towns around Lake Atitlan are connected by land, the most efficient way to get around is by hopping on a quick 30-minute boat ride. But these boats only run from 11 am to 6 pm so depending on what type of activities you are looking to do during your time at Atitlan, it's best to choose your "home base" wisely.
If you're only planning on stopping by for a few days, a hike to the Indian Nose near San Pedro is an activity that you shouldn't miss. This overlook is very popular for sunrises when visitors can see the sun slowly rise over illuminating the lake and 7 different volcanoes in the distance.
For those interested in the Indian Nose hike, you must arrange a tour guide in San Pedro the day before. The hike passes through private land but tour agencies have permission to use a section of the trail for sunrise hikes.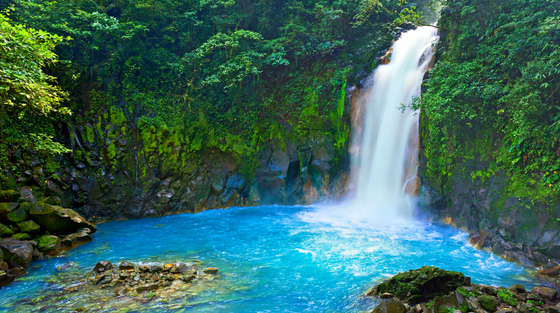 Rio Celeste waterfall, Costa Rica
For those who love sun, surf and jungle adventures, Costa Rica is one of the best places in the world for just that, offering some of the best hotels, restaurants, and amenities for international visitors making it a top vacation destination for couples and families.
While lounging by a pool in a jungle eco-lodge is certainly one relaxing way to spend a vacation living the "Pura Vida" life in Costa Rica, make sure to leave some room for a jungle adventure or two.
Along with zip lining, rafting and animal sightseeing, Costa Rica is home to some of the most beautiful waterfall hikes in the world. When it comes to Costa Rica you DO want to go chasing waterfalls.
One of the most popular waterfall hikes that visitors can do in Costa Rica is the Rio Celeste trail. This moderate yet straight forward hike leads through a magical forest in the Tenorio Volcano National Park and ends at Rio Celeste waterfall. Add 250+ stairs into the mix and this will land you at the base of the Rio Celeste lagoon where you will be able to see the insanely blue waterfall color up close.
The entrance fee to the Rio Celeste waterfall is $12 USD per person and while you certainly don't need a guide to do it, there are tours that you can arrange from La Fortuna like this one. It can get quite crowded unless it starts pouring (which it does all the time in Costa Rica) and you might even score the entire place empty for an hour or two like we did.
Bocas del Toro, Panama
With perfect weather, remote beaches and ocean breeze, Bocas Del Toro is a little slice of paradise on Earth.
Bocas Del Toro is a province consisting of beautiful tropical islands in northern Panama where visitors can snorkel in crystal clear waters, lounge on white sand beaches and purchase tropical drinks from wooden shacks that are made just a bit too strong.
Bocas Del Toro culture and lifestyle revolves around living the chill Caribbean island life. Inviting restaurants, colorful drinks, laughter, and grilled food scents drift through the streets day and night. It's a place where life just seems to gravitate towards slowing down the pace and just enjoy living in the moment.
This gorgeous little island cluster is also known for stargazing, but not the type that you would expect. While its pristine beaches attract travelers from all over the world, the main attraction here is the starfish. Located an hour bus ride away from the main city hub on Colón Island, The Starfish Beach is where visitors can see giant red starfish scattered along its shorelines.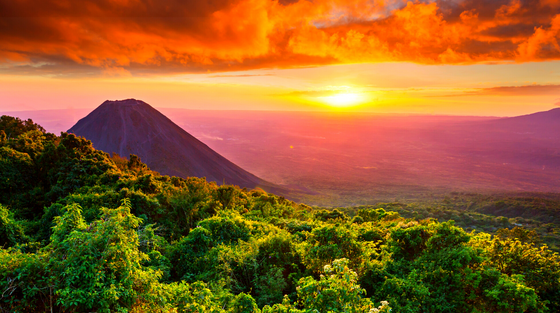 Conchagua Volcano, El Salvador
If you're looking for something to do in Central America that's a bit unusual and "off the beaten path", you'll really enjoy a trip to the Volcan De Conchagua in El Salvador. Conchagua is a volcano that is quite popular for the panoramic views that it offers of the surrounding area from its top, especially the Gulf of Fonseca bay that borders three countries – Nicaragua, Honduras and El Salvador itself.
The most popular place to see the fusion of these three Central America countries is from the Espíritu de la Montaña viewpoint that directly translates to mean "The Spirit Of The Mountain". This location is privatively owned but has been turned into a beautiful eco-camp by the owner Luis who has built a beautiful wooden platform where visitors can watch colorful sunrises, sunsets and even camp overlooking the Fonseca bay and the neighboring islands.
Due to the poor road conditions driving in a personal car to this overlook is not recommended but a ride in a truck can be arranged with Luis twice a day from the nearby town La Union. The ride to the viewpoint itself is quite adventurous zig-zagging up steep mountain roads while holding on to assistance ropes in the back of an old truck.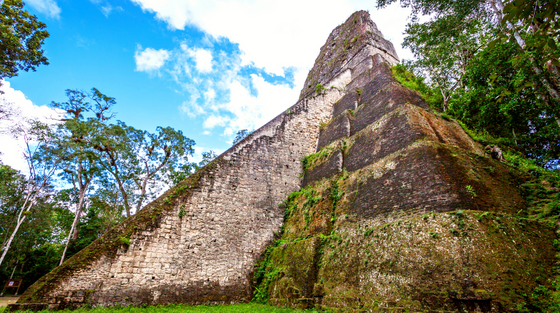 Tikal, Guatemala
Tikal Ruins is one of the largest and oldest of Mayan archeological sites, dating back to 1000 BC. As the capital of the Mayan kingdom, Tikal complex consists of around 3000 different buildings, although much of Tikal still remains buried underground and only about 30% of the ruins have been excavated.
These ruins are located deep in the Guatemalan rainforest and just walking around the Tikal site is an incredible jungle adventure itself. As you walk through narrow jungle paths you're likely to spot howler monkeys in the trees and coatis darting through the forest.
While most ancient ruins were built low and flat, the Tikal pyramids stand narrow and tall hovering high above the tree line. There are a few stairs created through the site where visitors can climb up and see the ruins from the distance – quite the sight, especially for sunrise.