A guide to the best beaches in Mexico
With the marvelous combination of summer coming and the reactivation of most traveling activities, this is the best moment to resume that beach getaway plan you had in mind last year. We worked on this guide to the best beaches in Mexico to awake your wanderlust.
With around seven thousand miles of coastal lines (like the distance between New York and Tokyo) Mexico offers incredible locations where sun, sand and sea combine to create warm, perfect locations for you to spend a fun, relaxing time. Let's take a look at Mexico's best coastal states, along with their most famous beachfronts -and a couple of hidden gems.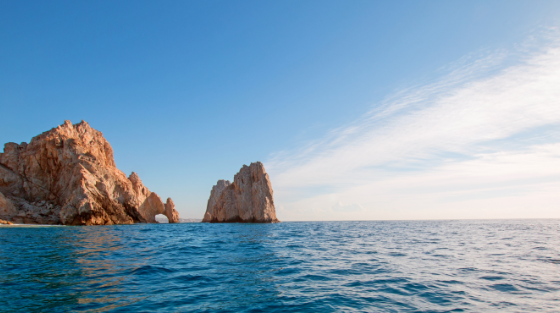 Baja California
Around 770 miles long, the Baja California peninsula (commonly known just as "Baja") offers otherworldly desert landscapes combined with quiet, sandy beaches.
Flanked by the Pacific Ocean to the west and the Cortes Sea to the east (this one called "the world's aquarium" by famous oceanographer Jacques Costeau) you can pick between well-developed locations or places with miles of beach just for you, the choice is yours.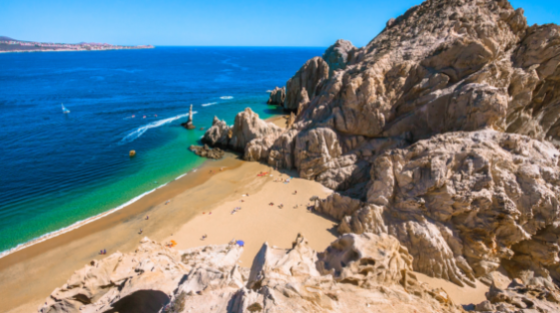 Best beaches in Baja California
Rosarito.

Near Tijuana, a lively beach just a few miles from the US border.

Puertecitos.

Ensenada is a city with amazing street food, and this beach is in a lovely cove of green, quiet waters.

Angelitos.

Bahia de los Angeles is a quiet fisher town home to a small American citizens community. Its isolated beach it's a great place for sunbathing in an amazing, lonely place.

El Vizcaino.

A

magnificent reservation considered UNESCO's World Heritage

where you can spot several endangered species such as whales.

Balandra.

This spectacular beach 20 miles north of La Paz has incredible desert views of a bay with shallow turquoise waters.

Santa Maria.

Located in San Jose del Cabo's beach corridor, Santa Maria is a quiet, pink sand beach considered one of the quietest in the city, ideal for some family time.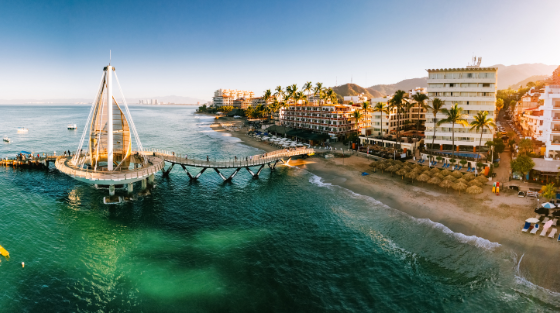 States of Jalisco and Nayarit
These two western states share Puerto Vallarta - Nuevo Vallarta, a popular beach destination among tourists from around North America, along with some nearby magnificent towns and villas. Bathed by the Pacific Ocean waters, the region offer places full of Mexican traditional heritage, beautiful mountain ranges welcoming outdoor enthusiasts, artisan tequila producers, surf paradises and a lively nightlife.
Charter flights connect the region with many major markets in the US and Canada, proving that the Vallarta region is a must Mexican destination you need to visit at least once, you can be sure you will want to come back.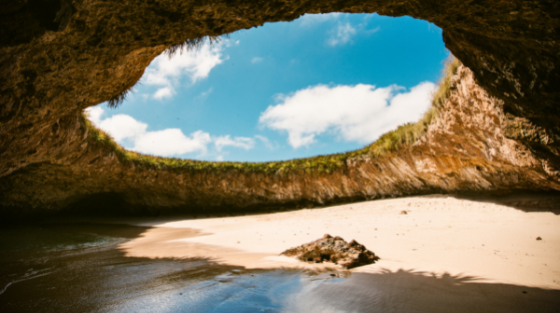 Best beaches in Vallarta
Puerto Vallarta Pier.

A major landmark in the town, around 1.5 miles of white sand sculptures, restaurants, night clubs and contemporary art.

Colomitos.

Hidden in the jungle near Boca de Tomatlan (15 miles south of Puerto Vallarta), this isolated beach is great to go kayaking, snorkeling or scuba diving, to admire its multicolor fishes.

Camarones.

Blu Flag certified due to its environmental protection efforts and the purity of its waters, you will find this crowded beach near Vallarta's city stadium.

Mita.

Located in Punta de Mita, 28 miles north of Puerto Vallarta, this town has some of the most luxurious resorts in the region, and its famous Mita beach will delight you with its calm, clear waters.

Sayulita.

A chill, laydown surfers town

about 30 miles north of Puerto Vallarta. A party-all-day destination that will keep you always awake.

Marietas islands.

This small

volcanic archipelago 5 miles away from Punta de Mita

and 22 from Puerto Vallarta is home of la playa del amor (Beach of love) a secret cove with a rocky semidome creating a unique beach scenario.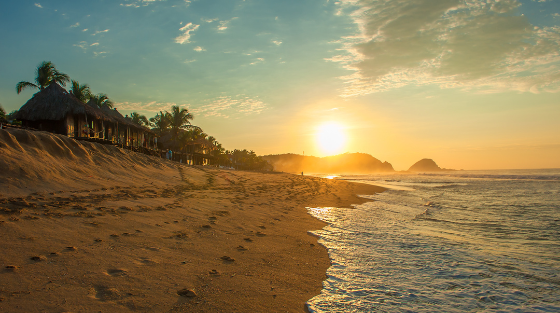 Oaxaca
An American tourist's favorite, the state of Oaxaca is a beautiful land of traditions, legends, one of the most renowned local cuisines in Mexico and mezcal, the hippest Mexican spirit. Besides the charm of the state's capital city and its surrounding towns, Oaxaca has 2 of the most beautiful beach destinations in the country: Huatulco and Puerto Escondido.
Located in the Pacific Ocean coast, both cities offer a unique set of magnificent beachfronts and activities for every taste: adventure, party, ecotourism, surf or simple relaxation, you can be sure Oaxaca's beaches will thrill you. 65 miles apart from each other, you'll find many paradises on the road, both known and secret.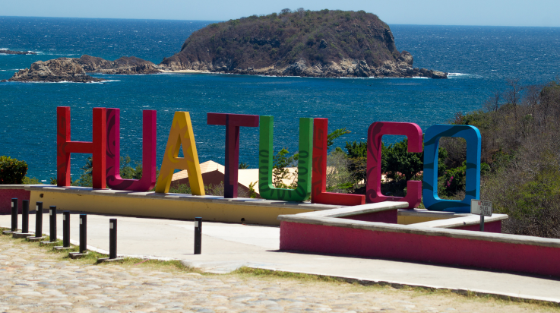 Best beaches in Huatulco and Puerto Escondido
Mazunte.

Located midway between Huatulco and Puerto Escondido, this iconic town offers the perfect getaway for those running away from the crowds. Home of two of the greatest beaches in the region: Mermejita and Punta Cometa.

Tangolunda.

One of the 9 bays in Huatulco, where most of the high-end resorts in the city are found. Here, you will find the calmest waters in town.

Zipolite.

Mexico's famous nudist beach

and the only official in the country. Visit if you want, be respectful and enjoy the brown sands, the quiet waters, and the total sense of freedom.

Mexico's famous nudist beach.

A promising rising star among the Oaxacan beaches, the fact that a hill separates the town from the beach makes this place a semi virgin location for you to enjoy.

Tembo.

This small, almost virgin bay is ideal to enjoy the sound of the waves enclosed by rocky formations. You will find Tembo 25 miles south of Huatulco.

Zicatela.

The best beach in Oaxaca for surf enthusiasts. An open sea beach where you will find many wave riders.